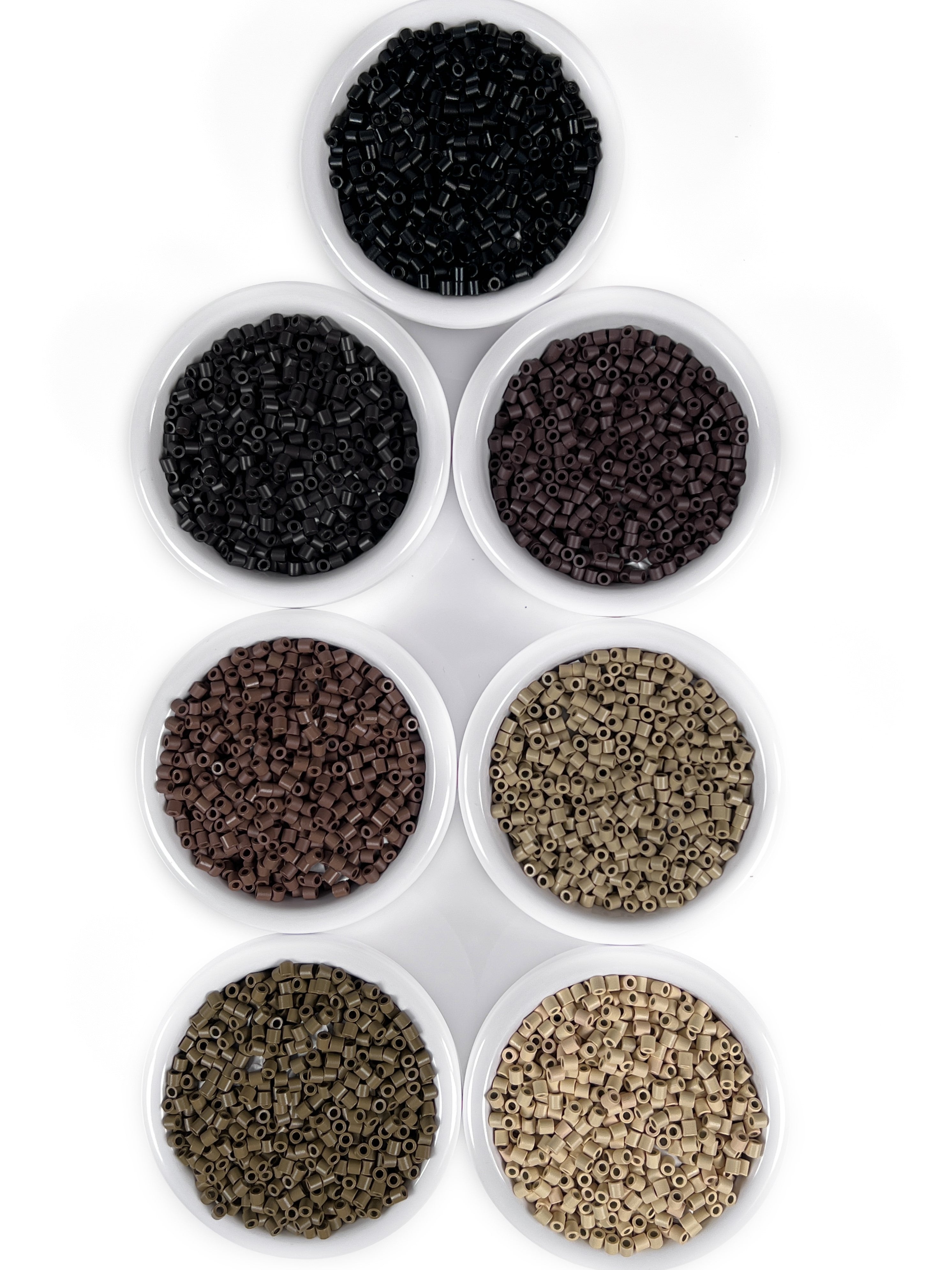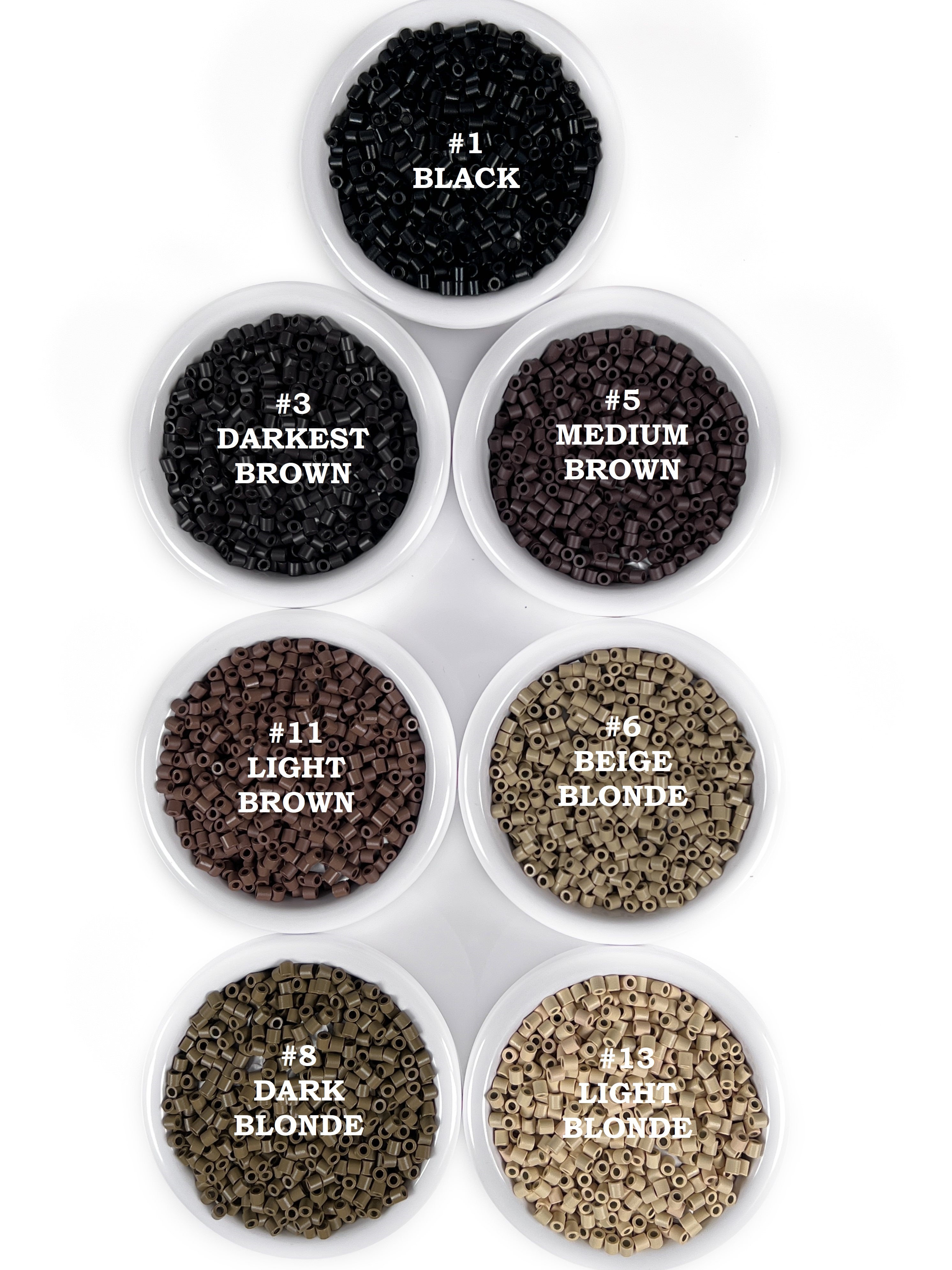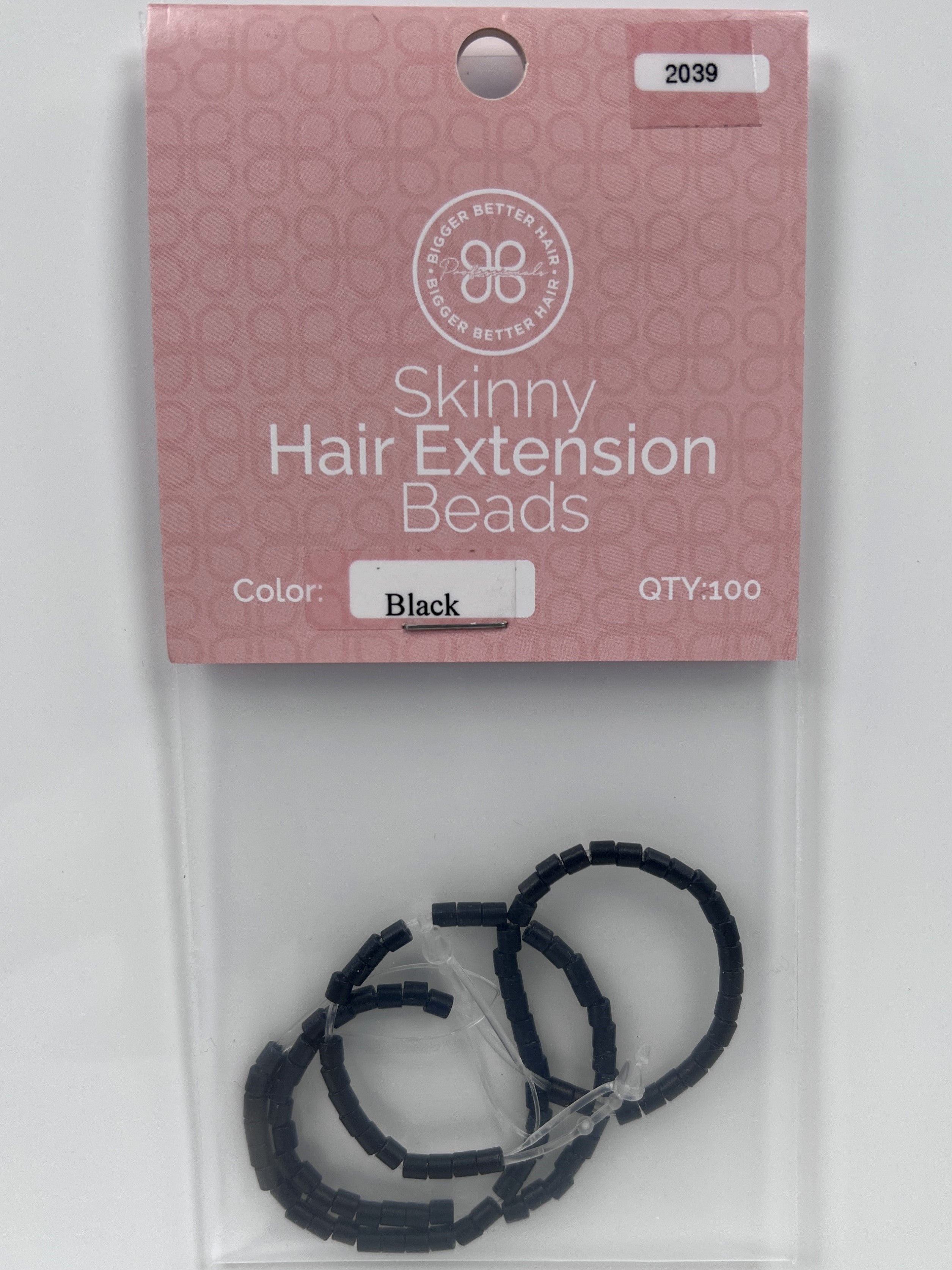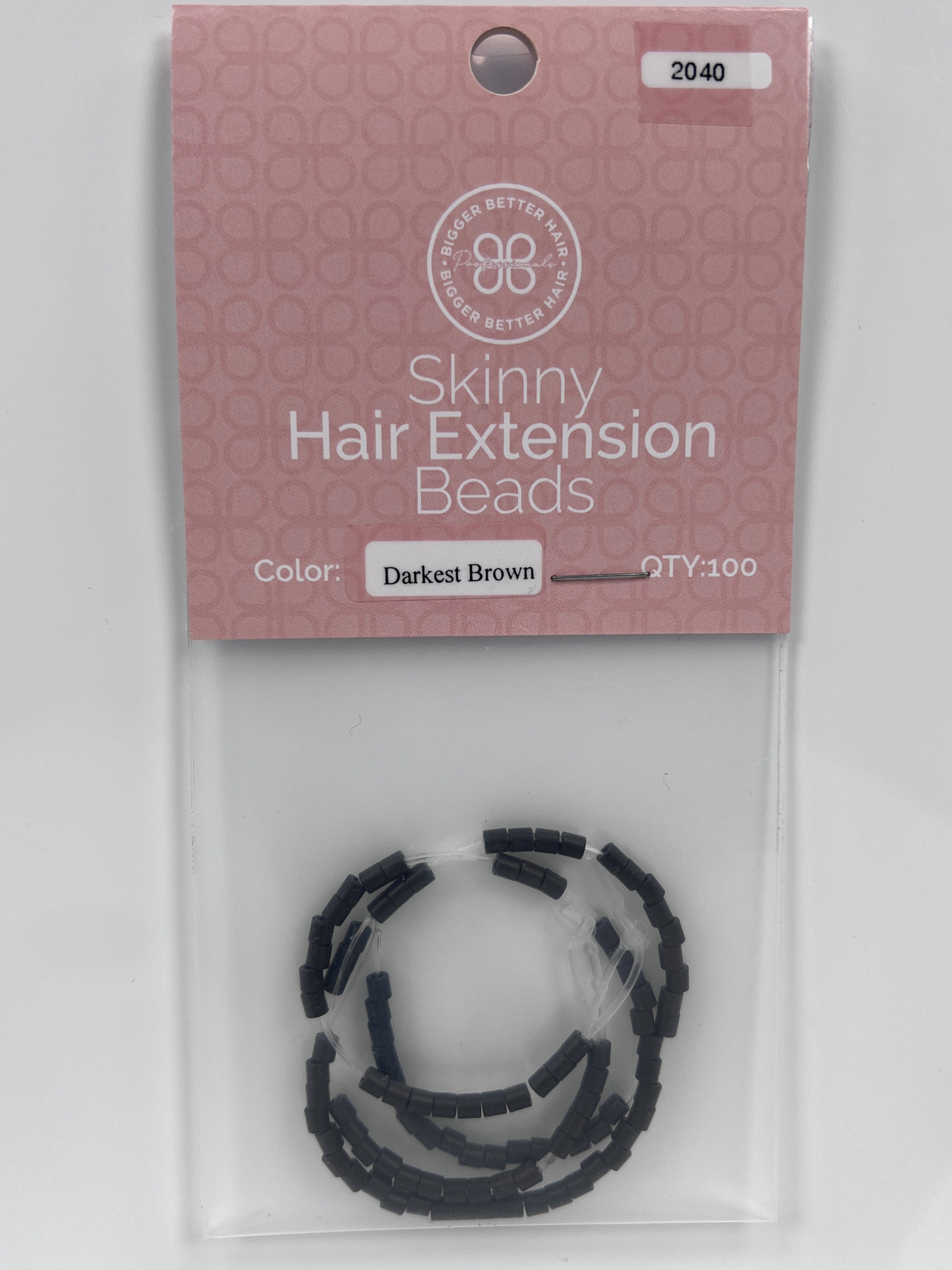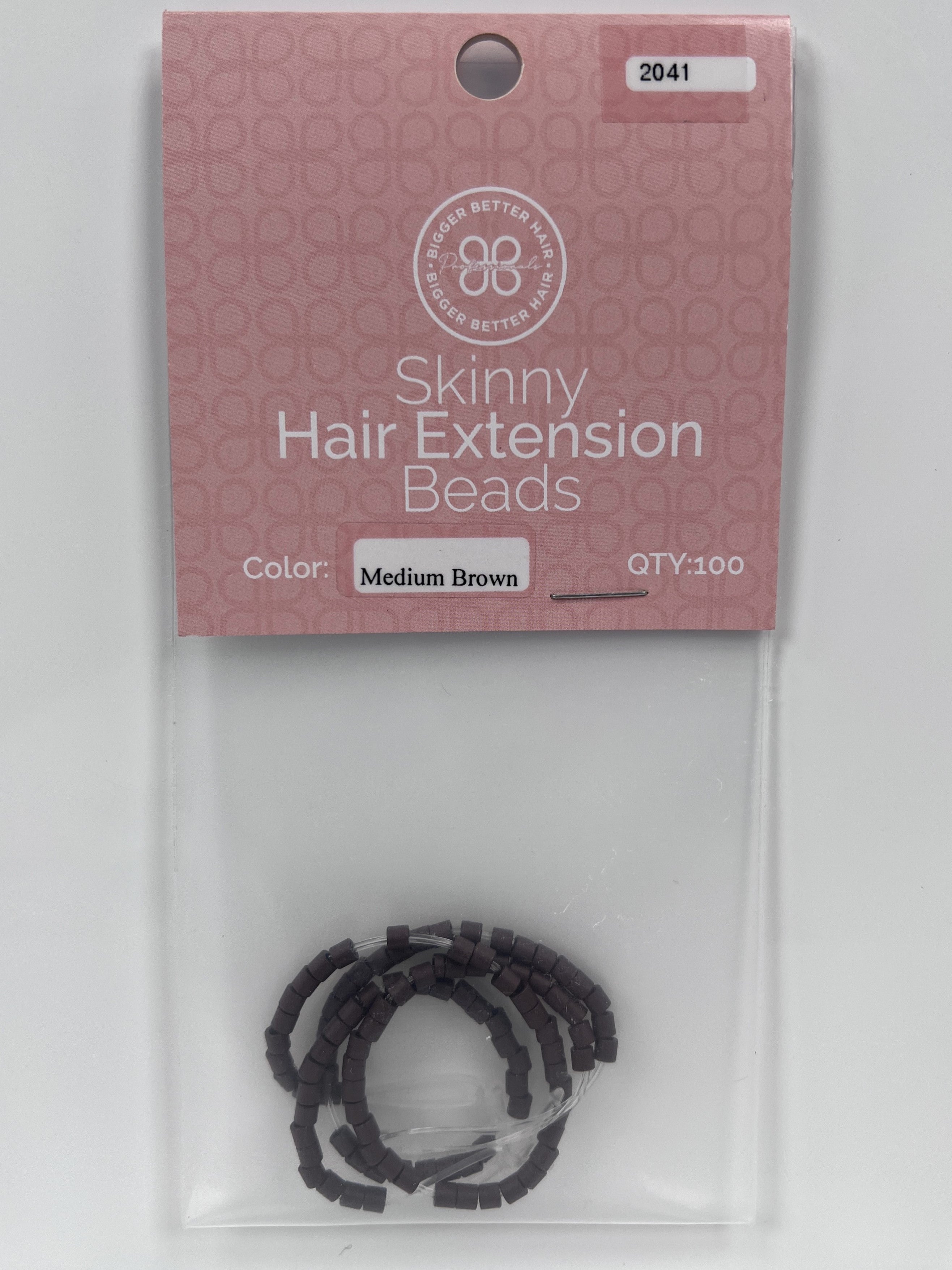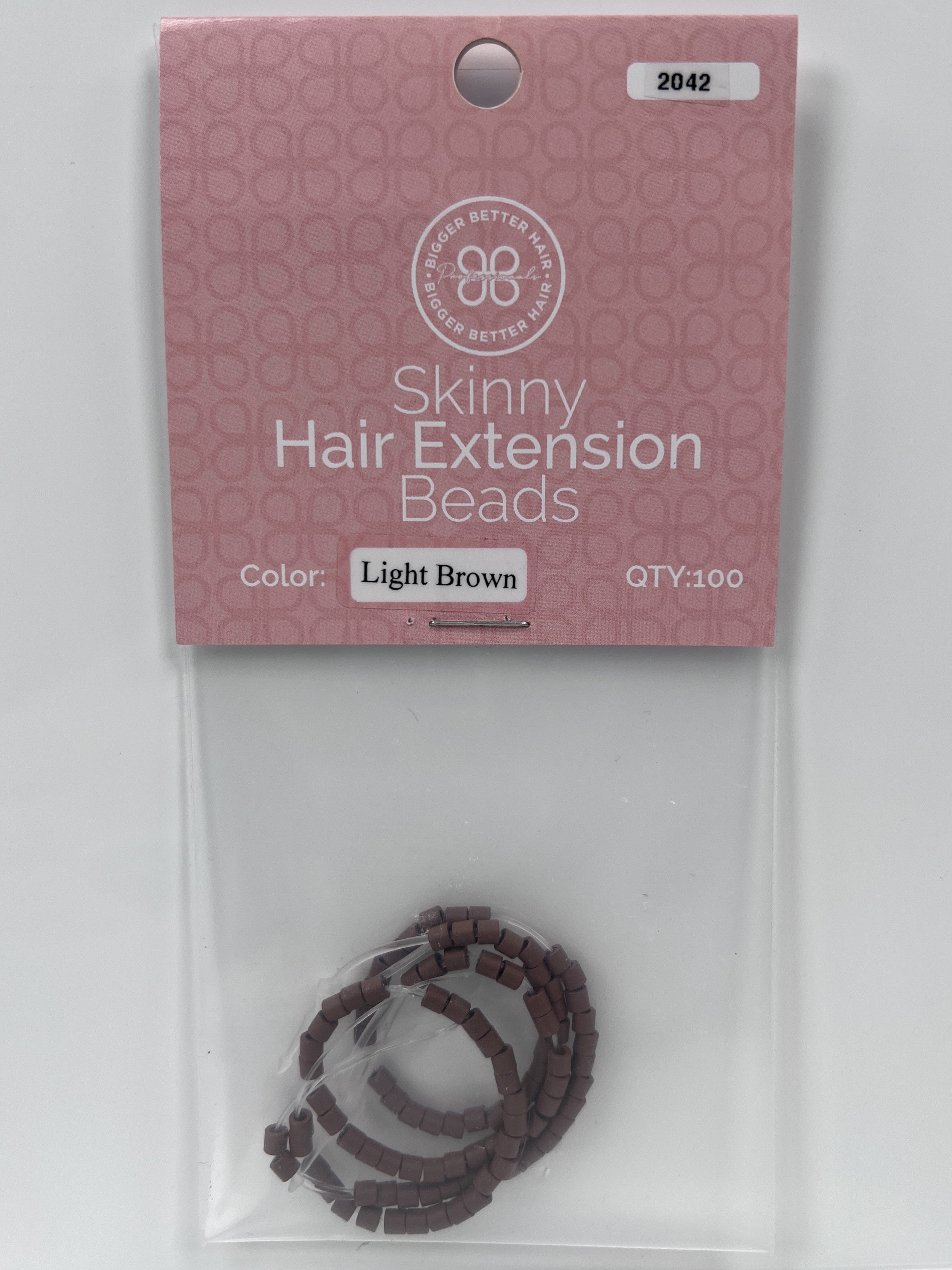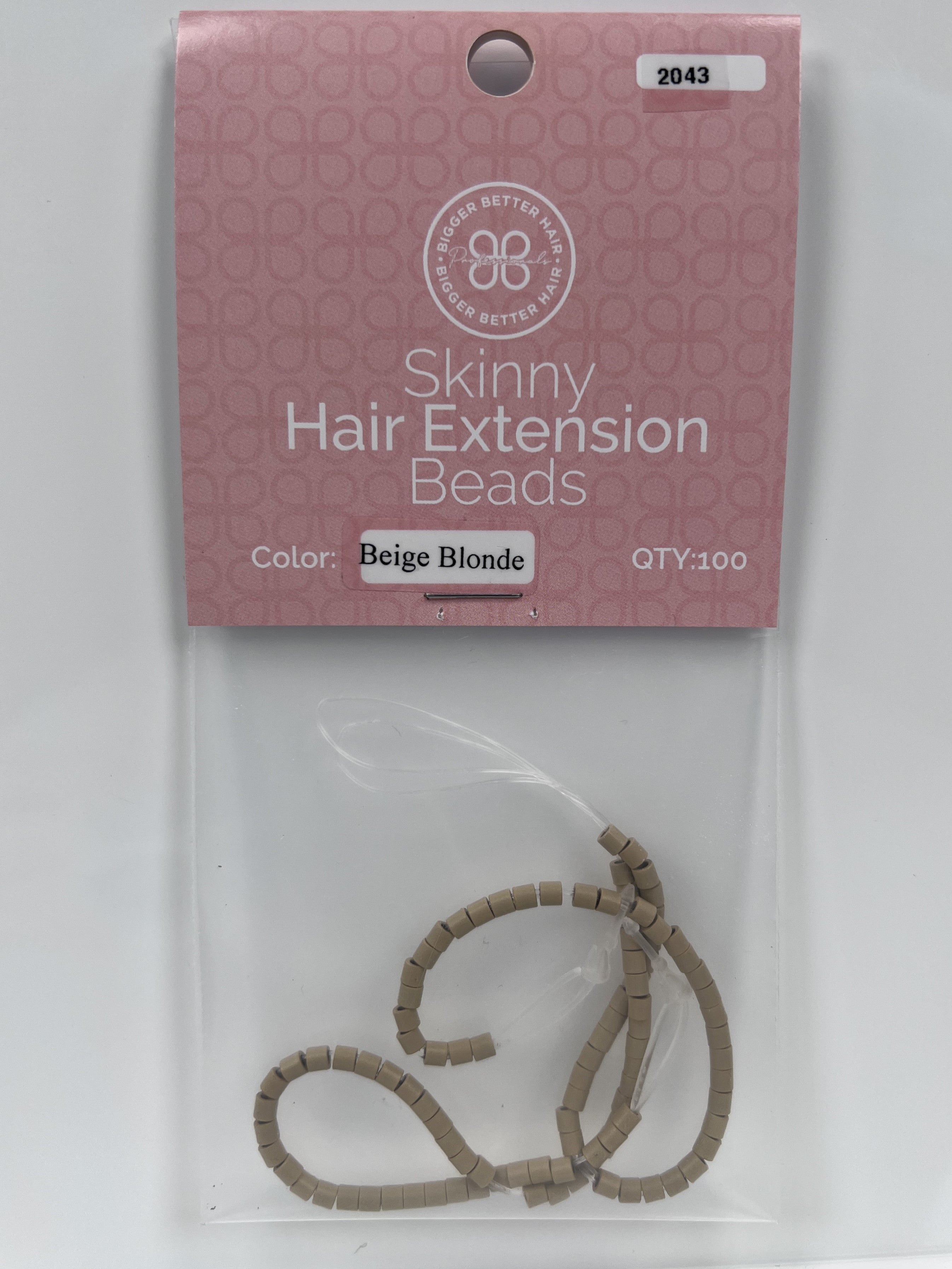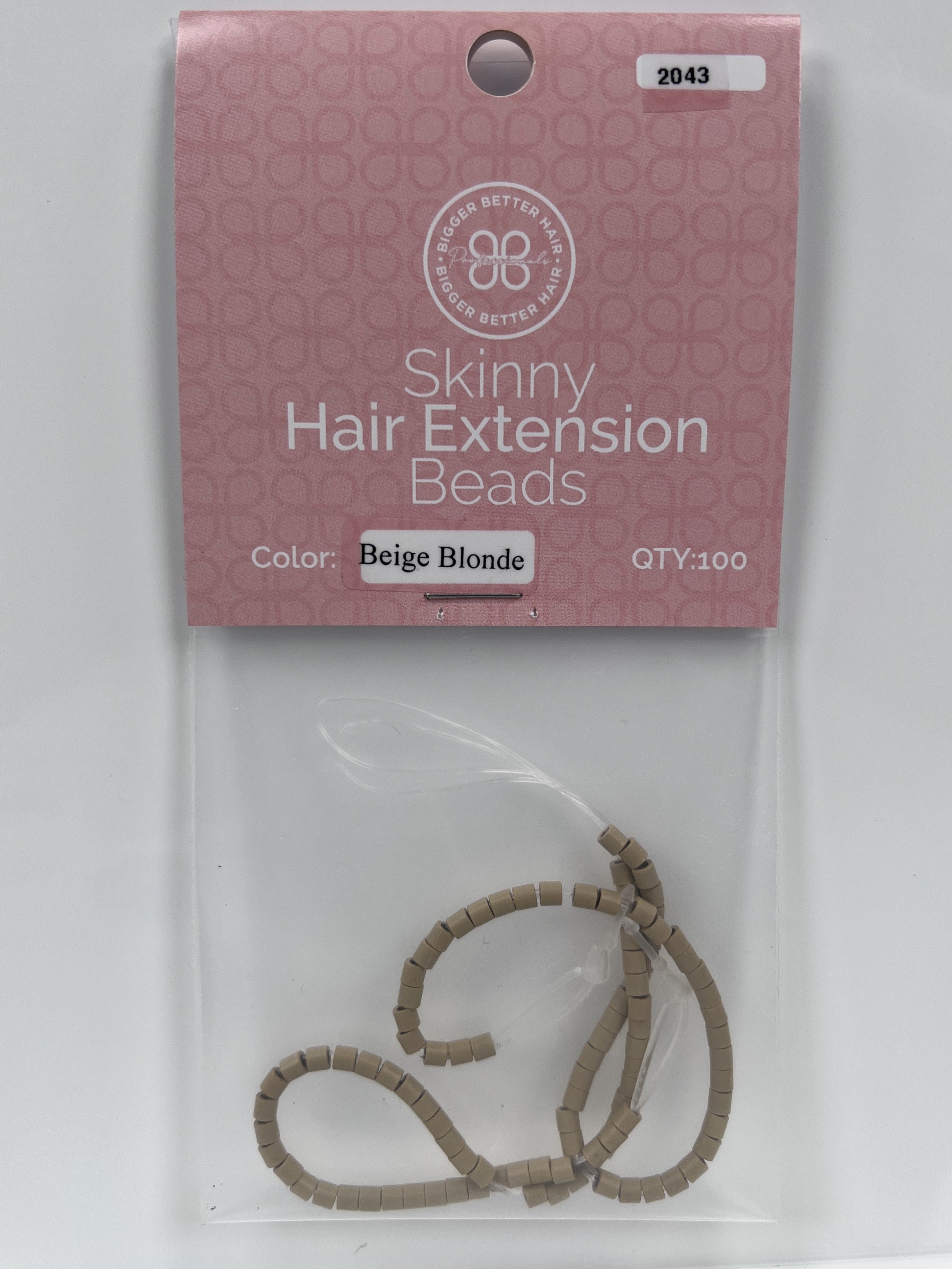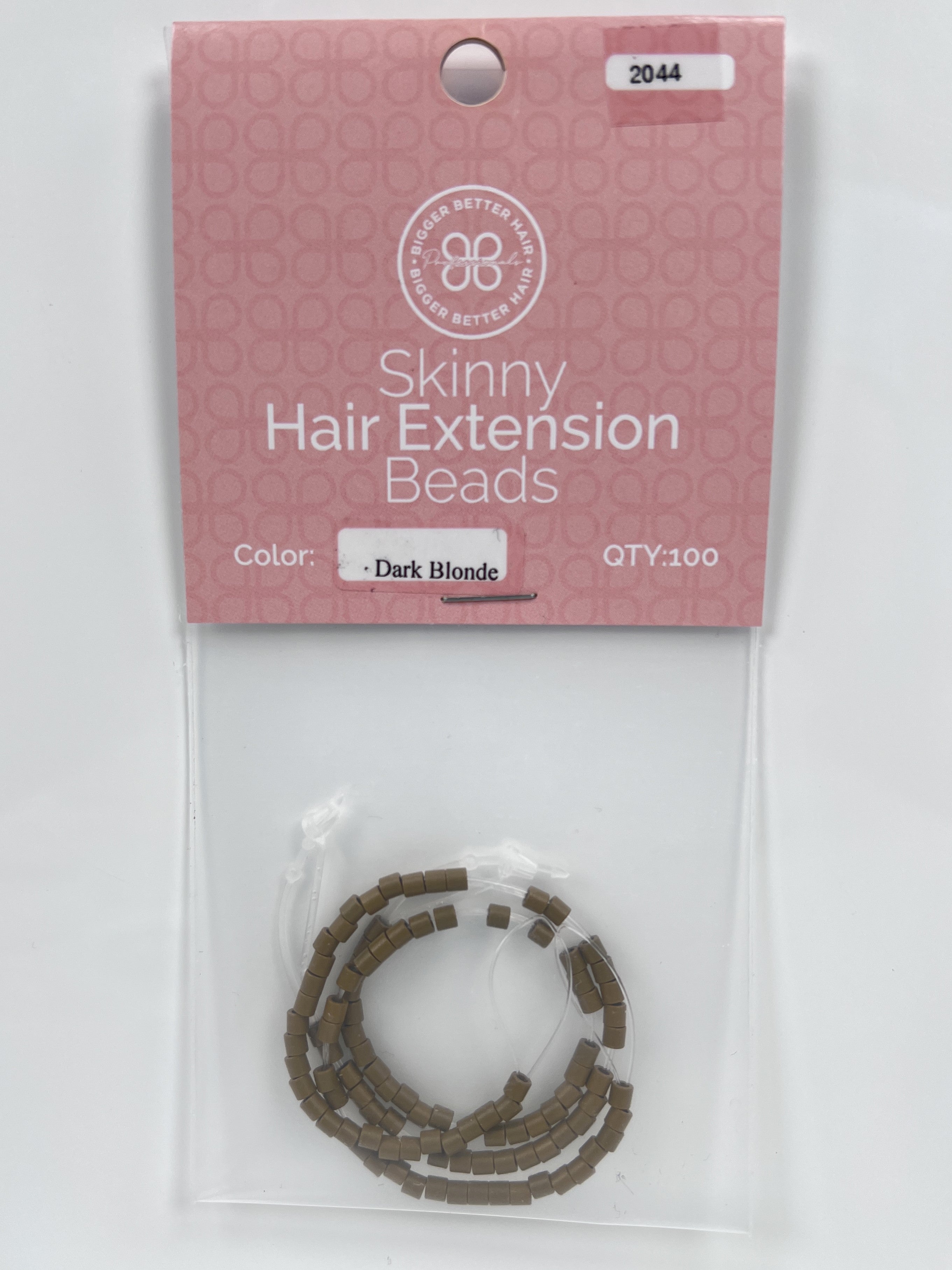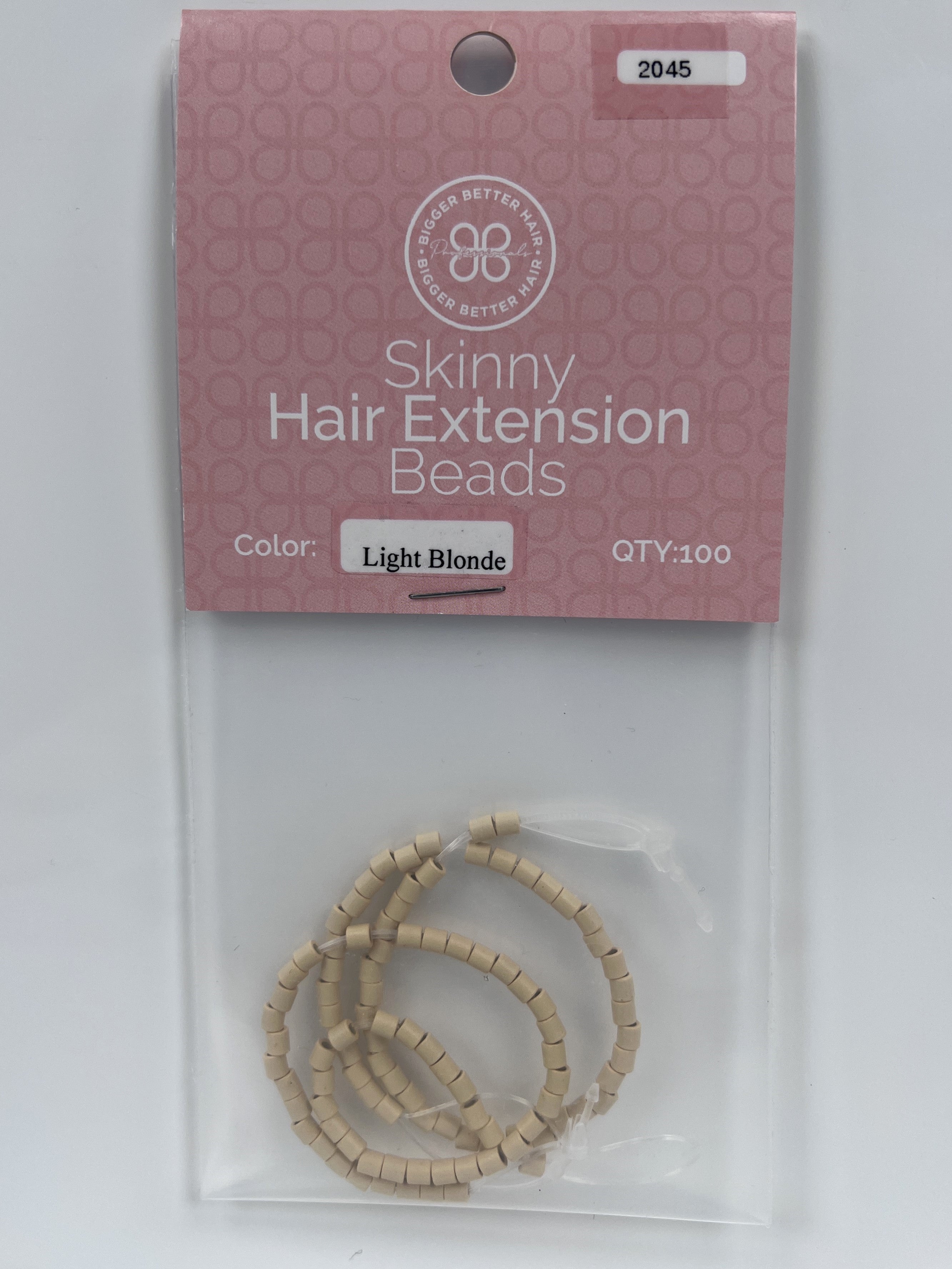 Size: 3 CM x 1.8 CM
Description: Our skinny beads are the perfect anchor for your hand tied method extensions on fine haired clients. These metal beads are long lasting, and smaller than our XL beads for clients with fine hair. 
Features: Our extension beads come pre-strung to help save time behind the chair.  They are on a loop tool ready to install without the need to pre-load prior to each installation.  100 beads in each capsule. 
How to Use: After sectioning the hair, pull it through the loop and slide your bead up the client's strands leaving 1/8 inch from the scalp to prevent over tension and breakage.  This also gives room to easily slide your hoop needle when installing our Skinny Wefts for hand tied extensions method.  
Life Span: The normal life cycle of our beads is to install them for the first time, then after 6-8 weeks of new growth, to open the beads and push them up closer to the scalp and tightly close again. 
After your initial installation, and a push up service, the integrity of the metal in the beads will begin to show wear, and the next visit we normally recommend doing a complete re-installation of new beads so your guest gets the most out of their extensions without slippage.  

Welcome Stylists!
Create an Account to Receive Preferred Benefits!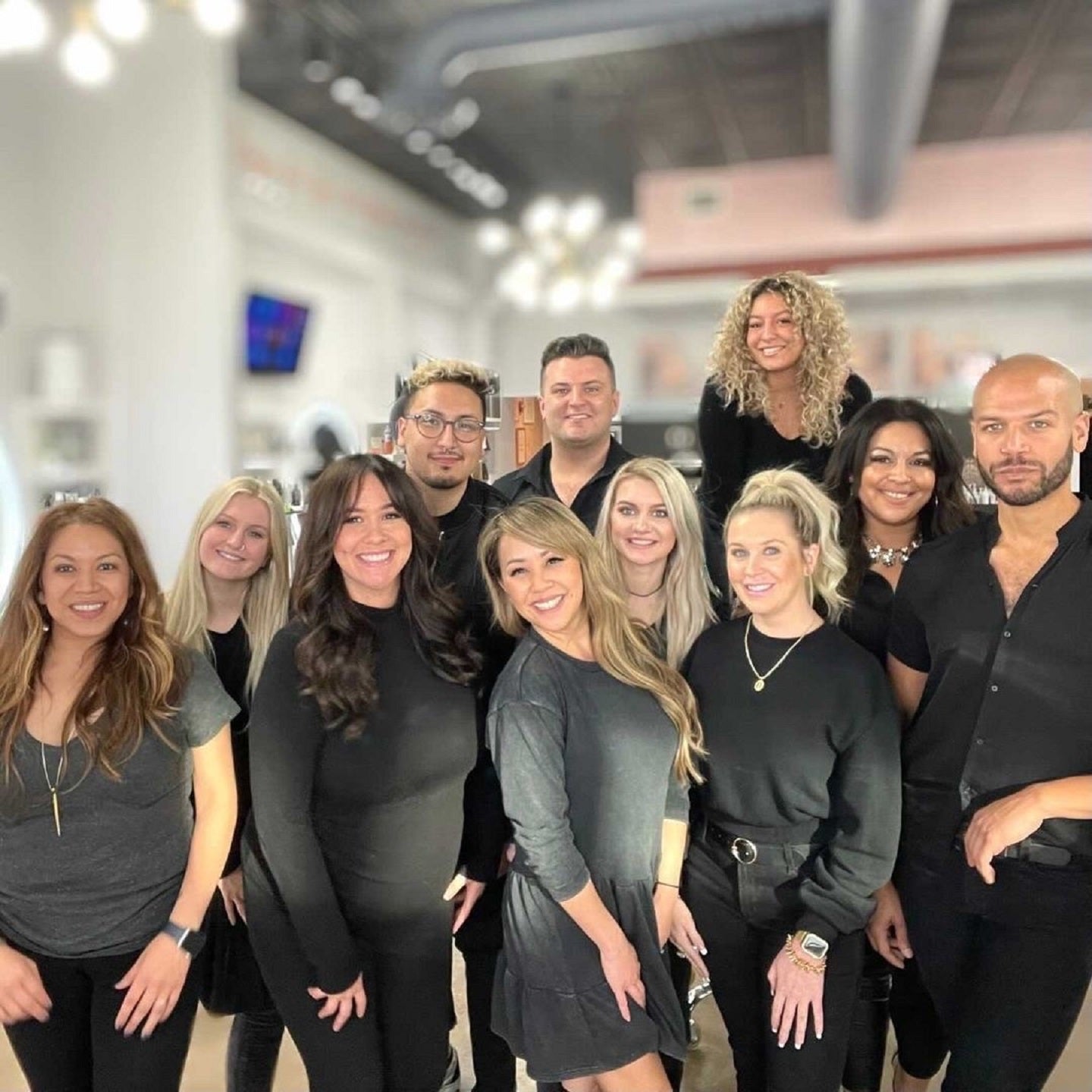 Designed by Stylists For Stylists
1 length, 2 methods, and top rated salon quality hair.

Spend less time pricing multiple lengths and brands, and more time growing your business

Maximise your existing business with a brand of hair extensions that is designed with the salon and stylist in mind. Quality first, business second, simplocity third. Join the Big Hair Movement.

38 Salon Inspired Colors
Our color collection is designed for the modern salon to have everything at their fingertips for a perfect blend every single time. Building the perfect blend almost always includes combigning multiple colors for a seamless color match.

Grade A Cuticle 100% Remy Hair
Our hair is vigorously tested from the time the coloring process begins, once it is lightened, after it has been colored to its final shade, as well as once it has been shipped to our HQ. At our HQ, we have a concept salon that uses the hair from each batch before a set is even shipped to a customer soas to provide a final quality control test before it's ever in the hands of a customer.

8 Week Warranty
The life span of our hair extensions ranges between 6-12 months for most clients, Every client is different, and the daily care & maintenance of hair extensions plays such a vital role in how long the hair quality maintains our high standards.

For the first 8 weeks of wear, we guarantee there should be minimal shedding (no more than 10%) from the wefts, and minimal (if any) color variances outside of external influences.

Professional Education
Coming Soon: Online Certification, Virtual Classes, and In Person Education at our HQ or in your salon.



2-Day Shipping
Our HQ is in Dallas, TX and orders are shipped daily Monday-Saturday at 4 p.m. central time.

Pickup is available at our HQ in Dallas, TX.

In some rare instances we can process orders after 4pm, but depending on carrier pickup times they are not guaranteed to go out after 4pm. If an order is placed after 4pm Monday-Friday the order will usually be processed and shipped the next business day.
Shipping
Our shipments for orders are processed at our HQ in Dallas, TX and sent at 4pm Central time Monday-Friday except for holidays.

Orders placed before 4 PM (CST) will be shipped the same day. If your order is placed after 4 PM (CST) it will ship the next business day. If an order is placed after 4pm Monday-Friday the order will usually be processed and shipped the next business day.

All of our shipments are sent with tracking details so you can follow your shipment progress and plan for delivery. If you can not locate the automated e-mail that our system sends you with tracking details, please log into your account and you can view your order history that will include tracking details.

Shipments over $250 will require a signature upon delivery.
STANDARD SHIPPING
FedEx 2-3Day: $5

OVERNIGHT SHIPPING
Fedex Standard Overnight: $40

PRIORITY OVERNIGHT SHIPPING
Next Day Morning, or Saturday: $65